Treatments
Latest Posts
16th Oct 2023

The results of the comprehensive study on aesthetic treatment complaints in the UK in 2022, conducted in partnership between ...

21st Apr 2021

To celebrate our 15th anniversary, we would like to offer this amazing skin rejuvenation package* as a thank you to all our ...
THE RANGE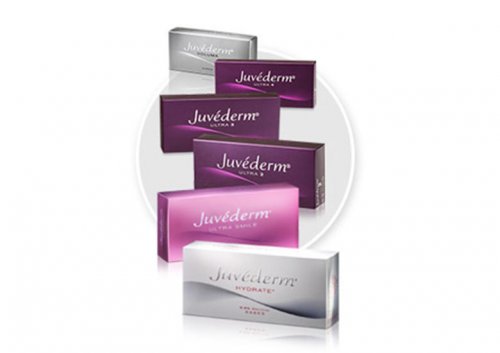 Juvéderm® anti-ageing injectable products are based on hyaluronic acid, a naturally occurring substance in the skin, which can absorb and retain more than 1,000 times its own weight in water.
As hyaluronic acid depletes over time, filler injections replenish it where creases and lines appear.

The Juvéderm® Range includes a choice of products and concentrations to suit differing patient requirements and different specialist uses.
All products in the Juvéderm® range contain 0.3% lidocaine, a local anaesthetic, which makes treatment incredibly comfortable.
JUVÉDERM ® ULTRA (ULTRA 2, ULTRA 4 & ULTRA SMILE)
Used for filling lines, creases and wrinkles
Also used for lip enhancement treatments
For more information about JUVÉDERM ® ULTRA ask your practitioner

JUVÉDERM ® VYCROSS (VOLUMA, VOLBELLA & VOLIFT)
Juvéderm® Voluma is a deeper filler used for larger areas used for restoring lost facial volume (due to ageing or weight loss). Can be used to shape the patient's facial profile, by enhancing cheekbones, chin or jawline.
Juvéderm® Vobella is designed for soft, natural, long-lasting lip enhancement and smoker's lines treatment. Incorporates special Vycross technology for minimal down-time
Juvéderm® Volift provides a versatile treatment option for patients who are looking for a discreet, natural look with minimal swelling and long lasting results.
For more information about JUVÉDERM ® VYCROSS ask your practitioner
One of our aesthetic practitioners will be able to provide expert advice on which product will be most suitable to your individual needs.